Stack Colors Game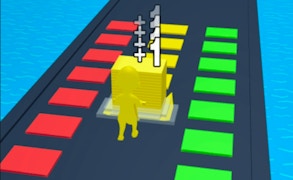 Stack Colors Game
Unleash the inner artist within you in the vibrant world of the Stack Colors Game. Merging the simplicity of coloring games, the adrenaline rush of running games, and challenging you with its Skill Games mechanics, this game promises an entertaining and immersive experience that pushes your cognitive skills to their limits.
Your character, a versatile rubber man, is your guide through each exciting new level. With him, you won't just run or maneuver, you'll be orchestrating a burst of colors as you embark on a journey that's nothing short of a visuospatial feast. The game's premise isn't just about getting to the finish line faster; it's about creating a stacking masterpiece – one color at a time.
In Stack Colors, each level presents you with different color templates matching the hue of your little man. Your mission? To stack these templates by touching them. It's not as simple as it seems though! Your reflexes and precision will be put to test as you run and stack with the right timing and acuity.
This game takes coloring games into a whole new realm by incorporating elements from running games, providing both fun and challenge in equal measures. Enjoying Stack Colors is like solving an absorbing puzzle- it captivates your attention, charm, and whisks you off into an arcade world where every color holds a secret waiting to be unveiled by your stacking prowess.
The captivating essence of Stack Colors has appeal far beyond just coloring or skill-game enthusiasts. It's for anyone seeking enjoyment from innovatively designed arcade games that not only entertain but also help sharpen their mental agility.
What are the best online games?