Stack Colors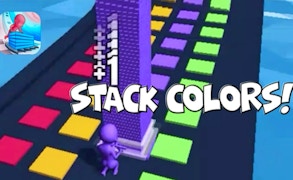 Stack Colors
Immerse yourself in the vibrant, exciting world of Stack Colors, a groundbreaking addition to the realm of Arcade Skill Games. As dynamic as it is captivating, Stack Colors combines elements of coloring games and running games to offer an exhilarating and unique gaming experience.
In Stack Colors, every item received and transferred matters. This is not only about transporting goods from point A to B but also about the strategy, precision, and skills. You must ensure you don't make any slip-ups by taking incorrect goods or not taking anything at all. The game demands your sharp observation skills and quick decision-making abilities, making it a standout among other skill games.
As one of the most engaging coloring games, Stack Colors does more than just splash your screen with an array of bright hues. It challenges you to pay close attention to color patterns while efficiently managing your goods for successful delivery.
The thrill doesn't stop there. Adding a dash of adrenaline rush are the obstacles ahead that you need to avoid while on your delivery quest. This adds a layer of complexity and unexpected surprises that fans of running games will thoroughly enjoy.
In summary, Stack Colors is a brilliant fusion of skillful management, heart-racing action and visually appealing coloring schemes which makes it the perfect choice for any gamer seeking an elevated arcade experience. Whether you're an aficionado of skill games, coloring games or running games - or all three - Stack Colors serves as a shining testament that arcade gaming still offers countless ways for us to be creatively entertained and challenged.
What are the best online games?