Spider Santa Claus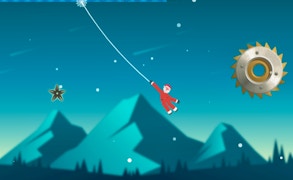 Spider Santa Claus
Step into the frost-laced boots of everyone's favorite holiday hero, but with a super-powered twist in the thrilling Spider Santa Claus. This adrenaline-pumping addition to the realm of Christmas games is guaranteed to have you hooked from the festive get-go.
A combination of action, strategy, and pure festive spirit, Spider Santa Claus brilliantly fuses together elements from the realms of Skill Games and Addictive Games. This isn't your typical Christmas game. No reindeers or sleighs here! Instead, you'll navigate our beloved Saint Nick through levels upon challenging levels by deftly shooting spider webs to dodge obstacles.
The aim: keep Spider Santa intact as much as possible as you traverse through each level before reaching your destination where he is magically restored. Sounds simple? Well, with increasing difficulty and an array of unforeseen challenges at every turn, this game has a knack for keeping players on their toes.
A visual treat with its holiday-themed graphics and immersive gameplay, this action-packed game is perfect for those who love a bit of a challenge amidst their festive cheer. The addictive nature of the game makes it impossible to put down - each new level bringing with it an urge to push ahead. Whether you're trying to kill time or in search of a thrilling gaming experience, Spider Santa Claus provides just that.
To sum it up: prepare yourself for an exhilarating, web-slinging adventure that will unquestionably put your gaming skills to test. So gear up for an extraordinary holiday season filled with exciting challenges and non-stop action. MERRY CHRISTMAS AND HAPPY NEW YEAR! PLAY NOW!
What are the best online games?