Speedrun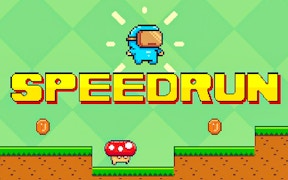 Speedrun
Welcome, pixel game enthusiasts, to a world where fast fingers rule - welcome to Speedrun Platformer. A standout among both adventure and escape games, Speedrun Platformer invites you to blur your boundaries between fiction and reality. Our gaming world today is oversaturated with running games that lack creativity, but this, my friends, is not one of them. Get ready for a gameplay experience that will challenge your skills and reflexes in ways you've never imagined before.
Immerse yourself in the pixelated universe of Speedrun! This game epitomizes the thrilling essence of pixel games. Every little square is filled with immense detail. The art style harks back to the golden era of gaming but with a modern twist.
If you have an appetite for competition and a penchant for breaking records, this game's for you. Unlike most running games, it's not just about making your character run faster; it's about strategic tapping, quick reflexes, and clever decision-making. Your skill sets will be pushed to their limits as it's not just an ordinary skill game; it is the ultimate test of your agility and quick-wittedness.
The spirit of triumphant domination resides at the core of Speedrun Platformer while promoting competition through its global leaderboard feature. Set new world records, outsmart the deadly traps, uncover secrets that can elevate your rankings - all at the tap-tap rhythm of your fingers. The thrill of victory echoes every time you climb up in the leaderboard. Adventure awaits! It's time to become the hero in this speedrun story.
In conclusion, if you're looking for something beyond ordinary escape games or pixel art adventures that test your skills like no other, then look no further than Speedrun Platformer. Dominate. Tap tap tap away. Run towards winning and cement yourself as one among the gaming elites!
What are the best online games?