Space Shooter Alien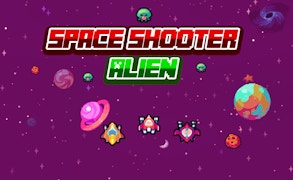 Space Shooter Alien
Description
In Space Shooter Alien, you take a nostalgic dive into classic arcade gaming. Your mission is simple: obliterate countless extraterrestrial adversaries to rack up scores and collect power-ups. Also, gather life and bullet enhancements to increase your survival and firepower capacities. A unique twist awaits as a transformation power-up alters your aircraft's form.
How to Play
Control your aircraft with arrow keys or WASD, and use spacebar or left mouse click to initiate your primary weapon. Your ability to collect power, life and bullet items can significantly influence your performance in the game. Look out for the change item, which modifies your plane's shape, imbuing it with unknown capabilities.
Tips and Tricks
The swarm of aliens may seem overwhelming but keep moving and firing to clear your path. Collect power-ups whenever possible - they can mean the difference between life and death. Remember, the unique change item has mysterious powers that could turn the tide in your favor.
Features
Retro arcade-style graphics: Delivers a classic gaming feel.
Plethora of power-ups: A wide range of upgrades boosts your gameplay experience.
Mystery change item: The intrigue of transforming your plane adds an extra layer of depth.
Variety of Aliens: Different alien threats provide a multitude of challenges.
What are the best online games?