Kogama: BeeCraft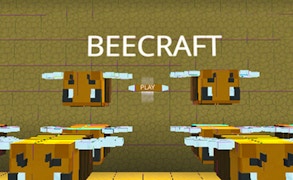 Kogama: BeeCraft
Encompassing the thrilling possibilities of both building games and flying games, Kogama: BeeCraft provides an immersive multiplayer gaming experience that will take you on an adventure far above the confines of the forest floor. This game challenges you to unleash your creativity, develop strategic building skills, and navigate through obstacle-rich environments with a cubegun in tow.
In the world of Kogama: BeeCraft, no walls, roofs, or trees are out of your reach. The key to success lies in the adept placement of stairs that lead you over any hurdle that stands in your way. This dynamic makes it a standout within the realm of multiplayer building games.
The innovative gameplay and freedom offered by Kogama: BeeCraft sets it apart from other titles in the genre. The freedom to design your home above the forest adds an exciting dimension to this game. It's not just another flying game; it's a unique blend of construction and exploration that keeps gamers captivated for hours on end.
In addition to its captivating gameplay, the graphics and sound effects are finely tuned to add depth and realism to this virtual reality. The challenges this game presents are varied enough to keep every level intriguing and its replay value high. It is designed with intuitive controls that allow for smooth navigation and quick reactions – essential aspects in flying games.
In conclusion, Kogama: BeeCraft is a must-try for those who enjoy multiplayer gaming experiences filled with creativity, excitement, and strategic planning. This game will undoubtedly elevate your love for building games and flying games to new heights!
What are the best online games?