Space Prison Escape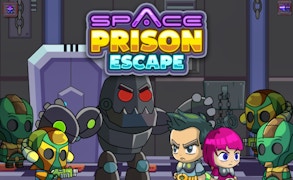 Space Prison Escape
Prepare yourself for an interstellar journey in the grand realm of Space Prison Escape. This thrilling adventure game combines innovative elements of escape games, heart-stopping moments of monster games, and the comradery found in some of the best 2 player games.
The premise invites you to partake in an exhilarating adventure where you and your friends are held captive by a horde of robotic aliens. Your goal? To dismantle the shackles, outwit your metallic foes, and find that elusive exit door in the space shuttle. But be warned - escaping them will not be easy.
In the vein of classic escape games, Space Prison Escape requires logical reasoning, quick reflexes, and strategic planning to successfully evade your captors. Each game level adds another layer to this cryptic puzzle, ensuring hours of mental gymnastics that will keep you on edge.
As a homage to gripping monster games, this intense chase ensues against a backdrop of grotesque alien creatures. It brings an aura of danger and suspense as you never know what lurks in the shadows. The formidable monsters require you to harness your courage as you navigate this terrifying labyrinth.
The added dimension of being one among popular2 player games amps up the fun quotient exponentially. The camaraderie between players becomes your secret weapon against these extraterrestrial foes. The combined mental prowess and collaborative efforts can turn tables on your alien oppressors.
In conclusion, Space Prison Escape blends mind-bending escape room strategy, nerve-wracking monster encounters, and cooperative gameplay into one unforgettable experience. It is a must-play for anyone looking for a challenge with a dose of otherworldly excitement!
What are the best online games?