Soul and Dragon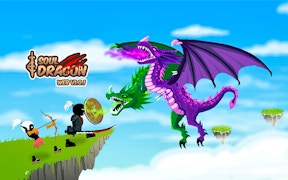 Soul and Dragon
Delve into the mythical dimensions of Soul and Dragon, a thrilling amalgamation of stickman games, dragon games, and monster games – a clash of mythologies not to be missed by any hardcore gamer. Sword games enthusiasts and battle-hardened veterans will find themselves immersed in this alluring take on 2 player games.
The game's innovation shines through its departure from traditional fighting roles. No longer are players restricted to the conventional warrior, archer, or tank roles. In a refreshing twist, every character emerges as a mage, wielding mesmerizing magic skills. Beyond this, Soul and Dragon offers a plethora of playstyles. From the brutal Arena PVP to the strategic Homeland Building and thrilling Bounty Hunter quests to the unending trials of the Endless Tower; the sheer variety is astounding.
At the heart of Soul and Dragon lies an impressive assortment of characters drawing from an array of fantasy realms. Whether you resonate with human warriors or goblin creatures, prefer magical elves or undead spectres, wish to harness the raw power of dragons or control monstrous Tauren beings – there's a character for every fantasy aficionado amongst its 200+ choices.
Fulfilling your archery games cravings, this game introduces intricate mechanics for both casual gamers and perfectionists alike. Craft your equipment with minute attention in Equipment Forging or try your luck in Lucky Wheel - every aspect in this game contributes to an epic adventure.
In conclusion, Soul and Dragon formulates a harmonious blend of combat and role-playing elements that make it stand out amongst other battle games. The journey might be littered with challenges but remember: each failure is nothing but a note composing your victory symphony. So why wait? Dive into this audacious adventure that is Soul and Dragon!
What are the best online games?