Soto Man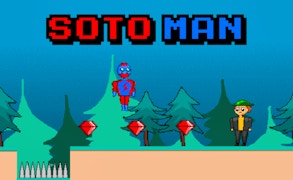 Soto Man
Description
In Soto Man, you'll find yourself immersed in a 2D platform world filled with dangers and adventures. As the gallant hero, your mission is to recover the pilfered red gems and evade perilous enemies robots and spikes. The game unfolds over a series of eight progressively challenging levels, each one concluded by taking a leap of faith into an enchanting portal.
How to Play
Pilot Soto Man using the "WASD" or Arrow keys. Utilize the "W" or "Up" arrow key for jumping and hit it twice for a handy double jump. Skillfully navigate through the levels, collect gems, dodge threats, and make your way to the magic hole that takes you to the subsequent level.
Tips and Tricks
To thrive in Soto Man, timing is crucial. Learn the patterns of foe robots and spikes to avoid damage. Use your double jump skill wisely - it can save you from pitfalls or help reach high places. Always keep an eye out for gems - they may be hidden in unexpected places.
Features
Engaging 2D platform gameplay with escalating difficulty.
Vivid design with unique character Soto Man.
Inventive obstacles including enemy robots and spikes.
Double jump feature that adds an extra layer of strategy.
Mysterious magic holes as passage to next levels.
What are the best online games?