Soldiers Combat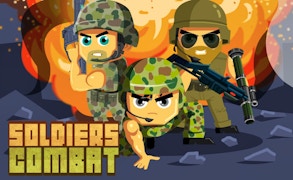 Soldiers Combat
Charge into the heart-thumping, adrenaline-pumping world of Soldiers Combat, one of the fiercely competitive war games that's sweeping the action genre. For those on the prowl for captivating battle games, look no further. Soldiers Combat is a thrilling addition to your arsenal of gun games, assuring you a seat on the edge from start to finish.
Buckle up for an action-packed journey through 8 meticulously designed levels. Each level presents uniquely challenging scenarios that test your strategic wit and reflexes. The subtle art of vanquishing enemies and uncovering hidden keys under boxes adds layers of intrigue and suspense to each level, guaranteeing hours of undeterred gameplay.
The true beauty of Soldiers Combat lies in its ability to provide an adrenaline rush by providing gamers with an enviable collection of weapons. From the rapid-fire machine gun to the earth-shattering bazooka, from the searing heat gun to the bone-chilling cold gun - every weapon brings its own unique blend of destruction, ensuring every battle is as different as it is exciting.
A notable feature is the game's rewarding loot system. The opportunity to collect coins enables you to unlock a multitude of awe-inspiring guns and characters that further elevate your gaming experience. So go ahead, gather more coins, unlock potent weapons and embody a real soldier.
The words 'action', 'strategy', and 'adventure' find new meaning in Soldiers Combat - one game that surely packs a punch. So if you're ready for war, Soldiers Combat waits with bated breath for your arrival. Don't keep it waiting too long!
What are the best online games?