Smash it 3D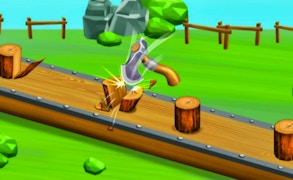 Smash it 3D
Unleash your inner destroyer with Smash it 3D, a game that lets you live your wildest destructive fantasies without any real-world repercussions. This action-packed gem is a fantastic addition to the ever-exciting realm of clicker games. However, what sets Smash it 3D apart from the crowd is its unique blend of adrenaline-rushing action and surprisingly satisfying element of simple, mindless fun.
In Smash it 3D, you are not just mindlessly clicking away; you are an unstoppable force wreaking havoc in a playground of destructibles. From chopping wood with extreme precision to slaying cockroaches who dared cross your path - there's never a dull moment. For all lovers of sword games, this game provides an innovative twist by transforming the sword into an ultimate tool of destruction.
What really sets Smash it 3D among the top Hyper Casual Games is its intuitive mechanics combined with stunningly crisp graphics. The physical accuracy with which objects break and shatter gives an incredibly satisfying feel which truly enhances the overall gaming experience.
This game doesn't need intricate storylines or complex characters to make it engaging - its charm lies in simplicity and destruction. The replay value is enormous, with endless objects awaiting their calamitous end at your hands. It's all about testing your target shooting skills and getting that practically tangible thrill from smashing, breaking, and destroying.
In summary, Smash it 3D perfectly marries the hyper-casual genre with action-filled gaming creating a uniquely addictive experience. It's a must-try for those looking for a fun way to pass time or let off steam. Get ready for a smashing good time!
What are the best online games?