Sleepy Princess Resurrection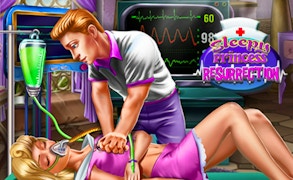 Sleepy Princess Resurrection
Step into a colorful kingdom with the latest captivating addition in Games for Girls, Sleepy Princess Resurrection. This game submerges young gamers in an enchanting fairy-tale world teeming with enjoyable learning opportunities and excitement.
A cross between Princess Games and Operation Games, Sleepy Princess Resurrection is not just a mere children's game. It cleverly combines the allure of royalty with the thrill of medical emergencies to create a unique, immersive experience. It's not every day that one gets to perform CPR on a princess!
In this absorbing adventure, players get to role-play as an emergency room doctor tasked with resuscitating the sleepy princess. The gameplay requires the use of defibrillator paddles, a component that enriches the game's educational value — all while maintaining its appeal thanks to its fairy-tale setting.
After ensuring the princess's heartbeat is back on track, players need to nurse her back to health by making sure she drinks lots of water and takes her vitamins. The learning curve might seem steep for some younger players, but it adds an extra layer of challenge that keeps things interesting.
Navigating through this whimsical world seamlessly combines fun and learning. It educates young minds about basic health care and provides them a sense of responsibility — all whilst keeping them entertained with colorful graphics and engaging gameplay.
To conclude, if you're looking for an exciting yet educational gaming experience for your child, look no further than Sleepy Princess Resurrection. This game marries fun with real-world skills in unforgettable fairy-tale settings — making it highly recommended for kids who love both princesses and adventures!
What are the best online games?