Slash Ville 3D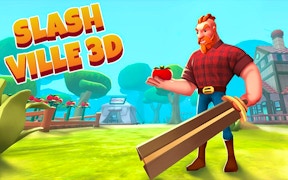 Slash Ville 3D
Today I bring to the table a strategy-filled treasure trove for all gamers out there - Slash Ville 3D. This masterpiece effortlessly intertwines building games, town design with city building games, and agricultural fun of farm games.
Redefining the scope of strategy games, Slash Ville 3D is not merely about grinding and hacking your enemies with your sword, it's also about strategically planning and developing your own bustling town. The game truly caters to those who desire diversity, as it seamlessly integrates elements from a variety of genres like sword games, battle games, and even animal games.
Taking center-stage in the game is the unique concept of 'Slash and Collect Tomatoes'. You pick up your sword, get into action, slash down enemies and collect tomatoes as bounty. These aren't just any ordinary tomatoes, they are the currency you need to enhance your town, upgrade your character, or even buy yourself some adorable pets. This game seamlessly fuses elements from different genres like a symphony conductor blending musical nuances.
The thrill in this strategy game doesn't end there. As you upgrade your town and character, you prepare yourself for new adventures. Every decision that you make will have its consequences, making every move feel real and consequential.
In a nutshell, Slash Ville 3D is an enigmatic concoction of building cities using strategy while managing farms in the mix of epic battles against menacing foes. It's a game that doesn't limit itself to one genre but breaks down walls to bring you an experience that is diverse, exciting, and full of juicy tomatoes.
All the strategy aficionados out there seeking diversity in their gaming experience should definitely give this unprecedented amalgam - Slash Ville 3D - a try!
What are the best online games?