Sky Bros - 2 Players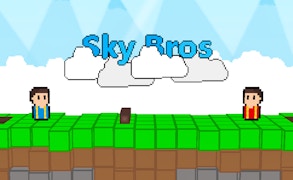 Sky Bros - 2 Players
Description
Welcome to Sky Bros - 2 Players, a game that stretches the limit of your strategic thinking and precision. Set in a pixelated world, you are bestowed with the task of building your realm in the sky. However, it's not all about creation. You also get to engage in some thrilling aerial battles using arrows as your ammunition. It's an ultimate test of survival and dominance in the sky.
How to play
The game generally has two modes; Build and Battle. In the Build mode, use your mouse or trackpad to construct your sky kingdom, gathering resources and erecting structures. During Battle mode, control flight using arrow keys and fire arrows at opponents by left-clicking on the mouse or touchpad. The objective is to dominate the arena by eliminating opponents and protecting your stronghold.
Tips and Tricks
Building strategic structures that protect your realm while giving you vantage points for attack can be key to winning battles. Regularly upgrading defenses is crucial. Practice maneuvering in flight and perfecting aim during battle will greatly improve chances of winning.
Features
Two-player game for enhanced competition
Satisfying blend of building and battle gameplay
Engaging pixel-art graphics style
Addictive, fast-paced aerial combat
Diverse range of constructible buildings for strategic gameplay
What are the best online games?