Skillfite.io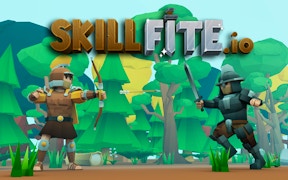 Skillfite.io
Description
Skillfite.io thrusts you into a relentless multiplayer experience where strength, strategy and resourcefulness are key. Set within a richly detailed online environment, you will need to gather materials, forge equipment and duel your way to the top. Here, only the strongest and most skilled can claim the illustrious title of being the most potent player in the server.
How to play
To play Skillfite.io, use your mouse or keyboard to navigate the terrain and collect resources. Click on resources to gather them and craft weapons or tools via a simple drag-and-drop interface. The controls include basic movement keys as well as action keys for fighting other players. Progress is achieved by surviving longer, improving your gear, and defeating more opponents.
Tips and Tricks
Start off gathering resources diligently before engaging with others in battle. Once equipped with crafted goods, strategize your fights wisely – not all battles need to be fought head on. Utilize hit and run tactics, aim for weaker targets first and learn from each defeat in order to improve.
Features
Skillfite.io offers various incredible features including:
A vast multiplayer online environment
A robust crafting system for creating weapons and tools
A ranking system based on survival duration and opponent defeat count
Opportunity to adopt various combat strategies to outwit opponents
An engaging community of competitive players from around the globe.
What are the best online games?