ShotWildWest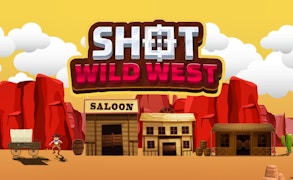 ShotWildWest
Description
Immerse yourself in a thrilling western action-adventure with ShotWildWest. Set against the backdrop of the wild west, this arcade game goes beyond traditional shooting. It challenges not just your trigger finger but also the agility of your mind in hitting rapidly-appearing targets with unerring accuracy. Test your limits as you strive to break all records and emerge as the ultimate gunfighter.
How to play
The gameplay is simplistically immersive. All you need to do is click or tap on the targets as they randomly appear on your screen. The faster you hit these targets, the higher your score. Your progress in ShotWildWest is defined by your ability to perfect your timing and boost speed, beating high scores, and setting new records.
Tips and Tricks
Speed is crucial but focus on accuracy too. Remember, a missed shot can cost valuable time. Enhance your strategy by memorizing target patterns and their appearance sequences. Mastering speed-clicking significantly improves performance in ShotWildWest.
Features
Rapid-Fire Gameplay: A fast-paced shooting experience that tests speed and precision.
Addictive Scoring: Every accurate shot boosts your score, creating an addictive drive to beat personal records.
Intricate Target Patterns: Randomly appearing targets create an ever-changing gaming environment.
Vivid Graphics: The wild west scenery adds a sense of immersion to this thrilling game.
What are the best online games?