Shopaholic: Tokyo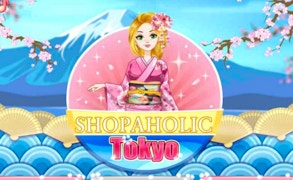 Shopaholic: Tokyo
Immerse yourself in the scintillating world of Shopaholic: Tokyo, a thrilling game for girls that beautifully integrates elements of fun and fashion. Shopaholic: Tokyo serves you a delicious platter of style and adventure, whisking you off on an unforgettable shopping spree across the bustling streets of Tokyo. This brilliant creation brings together dress up games, hairdresser games, makeup games, and fashion games into one sumptuous feast of entertainment.
The game enables players to explore a vibrant city, rich in culture, filled with stunning kimonos, sleek streetwear, and stellar accessories. The charm of Shopaholic: Tokyo extends beyond just dressing up. It engages the player through intricately designed challenges that require sensible budgeting and strategic planning.
The element of budgeting brings a unique twist to the otherwise fun-filled journey. Balancing fashion desires while adhering to a budget makes the game an excellent tool for teaching young girls valuable lessons on financial responsibility. This juxtaposition of fun and learning makes Shopaholic: Tokyo stand out in the crowd of typical games for girls.
The beautiful graphics of Shopaholic: Tokyo takes one through color-soaked lanes brimming with life and splendor that is characteristic of Japan's capital city. The dynamic interface enhances the gaming experience, making every dress-up session feel like a real-life shopping spree.
The game also boasts an impressive selection of outfits - from cool casuals to chic party wear - promising to satiate every fashionista's taste buds. So put on your shopping shoes ladies because Shopaholic: Tokyo is all set to take you on an extravagant fashion journey!
What are the best online games?