Shooter Rush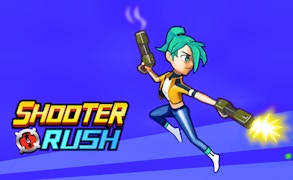 Shooter Rush
Step into the electrifying world of Shooter Rush, a tantalizing mix of gun games and battle games that will have your pulse racing and fingers twitching with anticipation. This game takes the exhilarating thrill of shooting games to a whole new level, promising an adrenaline-fueled experience unlike any other.
The moment you dive into Shooter Rush, you're thrust into a frenzied battlefield where hundreds of enemies swarm around you. Your mission? Keep moving and keep shooting. Every step, every shot, counts in this high-octane shooter game, where survival is measured in seconds and victory is reserved for the swift and the daring.
At the heart of Shooter Rush's gameplay lies the 'firemode', an exciting feature that seriously amplifies your destructive capabilities. Shoot your way through waves of enemies and, if you're skilled enough, trigger this explosive mode to obliterate dozens of foes in one gloriously chaotic blast. The firemode isn't just about raw power; it's a thrilling test of timing, accuracy, and strategy, raising Shooter Rush's gameplay from heart-thumpingly exciting to nail-bitingly intense.
Shooter Rush masterfully combines elements of gun games and battle games, delivering an immersive gaming experience that's both challenging and rewarding. The controls are smooth and responsive, ensuring that you can focus on what really matters: unleashing bullet hell on your enemies.
In conclusion, Shooter Rush is more than just another shooter game; it's a pulse-pounding symphony of bullets, explosions, and adrenaline-filled action. It tests your mettle at every turn, pushing your skills to their very limit as you navigate through hordes of relentless enemies. So whether you're a seasoned veteran of gun games or a newcomer eager to venture into the world of battle games – step into Shooter Rush today. And let the bullets fly.
What are the best online games?
TAGS