Sheep it Up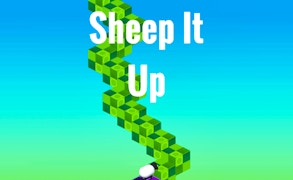 Sheep it Up
Description
In Sheep it Up, players get to guide a daring sheep that loves jumping on blocks. Offering endless gameplay, the main objective is to reach soaring heights while avoiding treacherous spikes. This hyper-casual game requires agility and quick decision-making skills. Every jump counts, and every missed block could mean the end of your run.
How to Play
The controls in Sheep it Up are easy to master but challenging to execute at speed. Navigate your daring sheep with either the left or right arrow keys on your keyboard, or simply click/tap on the left or right side of your screen. Your timing and accuracy are put to the test as you traverse moving blocks while avoiding deadly spikes.
Tips and Tricks
To maximize your score in Sheep it Up, keep a keen eye on incoming blocks to anticipate their movement. Timing your jumps correctly can help avoid deadly spikes. Also, remember that quick reactions and adaptability can often save the day when facing unpredictable block movements.
Features
Infinite Gameplay: The game doesn't end until you miss a block or hit a spike.
Simple Controls: Use keyboard arrows or screen clicks to navigate your sheep.
Challenging Obstacles: Deathly spikes create an exciting hurdle in every jump attempt.
Addictive Scoring System: Push for higher scores with every play session.
What are the best online games?