Set Bot 2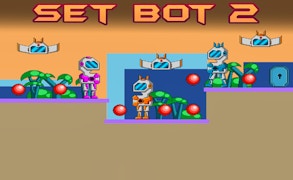 Set Bot 2
Description
In Set Bot 2, you dive into an immersive 2D Sci-fi platformer adventure. Equipped as a high-tech bot, your mission involves collecting coveted red tech balls whilst circumventing various obstacles. With enemy bots, airborne foes, razor-sharp spikes, and colossal blades in your way, survival won't come easy. The game intensifies as you progress through its eight thrilling levels, each presenting its unique set of challenges.
How to Play
The controls for this game are straightforward yet effective. Use the "WASD" or "Arrow" keys for navigation. To hurdle over obstacles or reach elevated areas, deploy the double jump feature by promptly pressing the "W" or "Up" arrow key twice. The end-game is simple - locate and pass through the Exit door to advance to the subsequent level.
Tips and Tricks
To excel in Set Bot 2, timing is everything - perfect your jumps and dodge fierce enemy bullets efficiently. Don't rush through levels; ensure all red tech balls are collected before moving on. Watch out for patterns in moving obstacles and enemy bots to anticipate their moves.
Features
An engaging 2D Sci-fi platformer with modern graphics
A vast array of challenges posed by numerous enemies and deathtraps
Intricately designed levels increasing in difficulty as you progress
User-friendly controls with the nifty double-jump feature for advanced maneuverability
What are the best online games?