Sery Runway Dolly Dress Up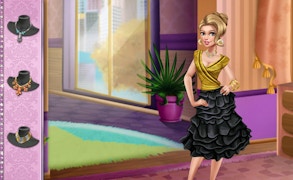 Sery Runway Dolly Dress Up
Welcome to the world of Sery Runway Dolly Dress Up, an enchanting addition to the realm of games for girls. Unlike any other, this game combines the thrill of surprise with the delight of creativity, sprinkled generously with a dash of high fashion.
This is much more than just a dress up game. Sery Runway Dolly Dress Up is where your fashion-forward vision can come alive as you dress Sery for an exclusive catwalk event! As you unveil the contents of the mysterious boxes, your imagination will be sparked. Delicate lace gowns, edgy leather jackets, and diva-worthy accessories all contribute to a diverse portfolio of fashion possibilities.
But that's just part of the fun. Consider this game as one of those innovative hairdresser games, too. You'll have all sorts of striking hairstyles at your disposal. Whether it's a sleek ponytail or bouncy curls, your chosen hairstyle can add just the right amount of oomph to Sery's final look.
Now let's talk about makeup games. Yes, Sery Runway Dolly Dress Up allows you to plunge into a pool of color and shine! From glossy red lips to smoky eye makeup effects, you get to choose how Sery presents herself on that runway.
In conclusion, if you're looking for interactive fashion games that go beyond just picking out clothes or designing hairdos, Sery Runway Dolly Dress Up might be your perfect match. This game provides a magical blend of dress-up elements that keep players coming back for more. It cultivates creativity while offering hours of fun. So fashionistas out there, sharpen your style instincts and help Sery become the showstopper we all know she can be!
What are the best online games?