Sea Boom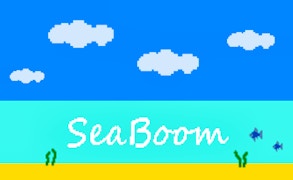 Sea Boom
Description
In Sea Boom, you will embark on high-octane naval warfare! Command a mighty battleship engaged in a relentless deep-sea duel, dodging enemy fire while launching your attack. Sink enemy submarines to accumulate points, and seize the opportunity to take out fish for bonus points! This action-packed game created by PixelGamesStudios combines skillful maneuvering and precision shooting.
How to Play
Commanding your battleship is straightforward: use the arrow keys to navigate the tumultuous sea. Unleash your firepower with the space bar, but aim carefully as there is a 1-second cooldown between shots. Points are scored by sinking submarines or hitting fish swimming through the warzone. Use the enemy's firing rate to time your evasive maneuvers and counterattacks!
Tips and Tricks
The key to victory is mastering evasion. Monitor the enemy's firing pattern closely, and use their pause in between attacks to strategically position yourself for counterattacks. Remember, striking fish doesn't just add points; it can also serve as a distraction, drawing fire away from your battleship!
Features
Pixellated graphics: Nostalgic feel of classic pixel games brought into intense naval warfare.
Immersive Gameplay: Fast-paced action requiring both quick reflexes and strategic planning.
Epic Soundtrack: '8 Bit Hero' by HeatleyBros adds an adrenaline-pumping accompaniment.
Soothing Sounds: Sound effects designed by BFXR.net that fully immerse you in your deep-sea battles.
What are the best online games?