Scary Vending Machine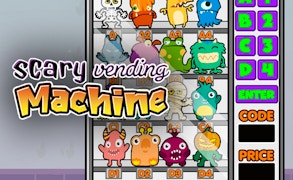 Scary Vending Machine
Description
Unleash your inner monster in the Scary Vending Machine game! This captivating arcade game combines fun gameplay with an educational bonus. Offering three different types of vending machines - toys, sweets, and food, each filled with items that come with a particular price. You must use the coins given to you to correctly match the price displayed. An accurate amount rewards you with a released item while wrong answers result in an error message.
How to Play
The controls are straightforward - simply drag and drop the correct amount of coins into the vending machine corresponding to the price shown on display. If you get it right, you'll see the item coming out of the vending machine. However, if you get it wrong, expect an error message reminding you to try again.
Tips and Tricks
In order to be successful in this game, it's crucial to understand basic math skills. Remember, practice makes perfect, so don't worry if you don't get it right on your first few tries! The trick is to keep practicing until you can easily calculate sums!
Features
Educational Gameplay: Not only fun but also helps in improving mathematical abilities.
Diverse Options: Three different vending machines keep your child engaged and intrigued.
Error Messages: A unique tool for helping players grasp the concept of math accuracy.
Straightforward Controls: Drag-and-drop mechanism that enhances user-friendliness.
What are the best online games?