Scary Math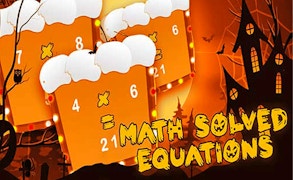 Scary Math
Description
Step into the eerie world of Scary Math, an ingenious educational game that merges daunting fun with math problems. Players get to sharpen their mathematical prowess across different mathematical operations, wrapped in a monster-themed ambiance. From simple addition and subtraction to complex multiplication and division, watch your math skills improve in a thrilling environment. Scary Math is a suitable educational tool for learners of all ages seeking to enhance their mental agility.
How to Play
In Scary Math, mathematical equations emerge on the screen and players must quickly choose if the equation is correct or not. Navigate through levels as you solve these equations, with each level increasing in difficulty. The game's controls are simple and intuitive, requiring just a click or tap to select the correct option. Progress is measured by your accuracy and speed in solving the equations.
Tips and Tricks
To excel at Scary Math, develop quick reflexes to solve equations as speedily as possible. Also, always review your answers before selection because incorrect answers could cost you valuable time and points. Don't be afraid of making mistakes—they're part of the learning process!
Features
Wide range of mathematics topics including addition, subtraction, multiplication, and division.
Intriguing monster-themed ambiance.
Adaptive difficulty levels suitable for learners of all ages.
User-friendly interface with simple controls.
What are the best online games?