2048 Ball Buster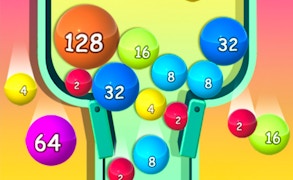 2048 Ball Buster
If you're in search of a game that merges the elation of 2048 games, the thrill of ball games, the cognitive challenge of brain games, and the numerical excitement of number games, then 2048 Ball Buster is the perfect pick for you. This brand-new puzzle game, with its elimination theme, takes the player on an engaging journey that goes beyond mere entertainment. It enlightens your mind, putting your thinking and imagination to the test.
As an original fusion of popular gaming genres, 2048 Ball Buster stands out on its own. All you need to do is eliminate and synthesize more digital balls to achieve higher points. Sounds simple? Well, it's not as straightforward as it seems, which is what makes it all the more intriguing. Each level brings forth a distinct set of challenges that requires your undivided attention and strategic approach.
The game's design is simplistic yet captivating, offering huge replayability in terms of the rich and wonderful levels. Every level conquered rewards you with more points while raising the bar high with greater requirements to fulfil. This neat game mechanic ensures that monotony never seeps into your gaming experience.
While it boasts simplicity in operation, don't let this fool you into thinking it's a cakewalk! On the contrary, it is designed to stretch your brain muscles and enhance your analytical skills. As such, it combines fun with cognitive development!
In essence, 2048 Ball Buster presents itself as a rewarding hybrid puzzle game that sucks you in with its engaging gameplay and doesn't let go until you've bested all its challenges. So why wait? Come and play now!
What are the best online games?