Squad Tower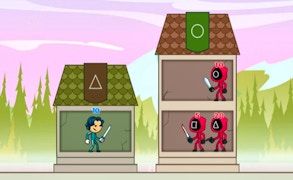 Squad Tower
Squad Tower, an adrenaline-pumping fusion of action, strategy, and combat puzzle genres, truly stands out in the vast ocean of battle games. Masterfully blending elements from sword games and survival games, it brings a refreshing and exhilarating gaming experience to the table.
The game provides an intricate labyrinth of towers teeming with formidable enemies. Unlike typical brain games, Squad Tower doesn't hold your hand; rather, it thrusts you into the heart of the battle. It's a game where your strategic prowess really needs to shine. The tactical depth is immense - you have to meticulously plan your moves, predicting enemy patterns and synergizing your squad's abilities effectively.
The drag-and-drop mechanism for controlling your hero adds an element of immediacy and urgency to the battles. It's not just about choosing the right actions but executing them swiftly—a thrilling fusion of swift reflexes and strategic planning reminiscent of the best sword games.
The game also offers a plethora of skins and weapons to unlock. Each weapon has its own unique mechanics which will push you to modify your strategy on the go. Your hero's aesthetic can be customized as well, further immersing you in this beautifully crafted world.
Squad Tower culminates in epic confrontations with relentless enemies. These encounters demand everything - quick thinking, precise timing, and sound strategy - becoming a true test for any fan of survival games.
In a nutshell, if you are looking for a challenging yet rewarding gaming experience—one that combines action, strategy from battle games, complexity from brain games, intensity from sword games, and endurance from survival games—look no further than Squad Tower. It guarantees to test both your brawn and brains in equal measure.
What are the best online games?