Scary Halloween Spooky Nights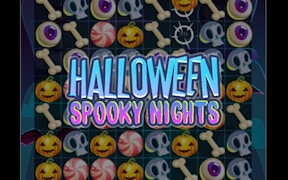 Scary Halloween Spooky Nights
Description
In Scary Halloween: Spooky Nights, your mettle is tested in a hair-raising, bone-chilling Halloween setting. Delve into an ambiance filled with horrifying graphics and eerie music that will keep your adrenaline pumping. Your task is simple yet challenging - rearrange identical symbols to form a line and clear each level. But beware - as time runs out, the situation intensifies, making your journey truly terrifying.
How to Play
The controls are intuitive and easy to master - you simply click or tap on the icons to swap their positions. Your goal is to align three or more identical symbols either vertically or horizontally. With each successful match, you will progress further in the level, but remember; time is of the essence! As the clock ticks away, the atmosphere becomes tenser and more thrilling.
Tips and Tricks
Efficiency is key here; strategize your moves to create as many matches as possible in one swap. Look out for special symbols - these can give you a serious advantage. Under pressure, it's easy to rush – but remember, a well-considered move can save much-needed time and boost your score.
Features
Fantastically frightful graphics that perfectly set up a spooky atmosphere.
Catchy and spooky background music providing an immersive gaming experience.
A unique combination of puzzle-solving and horror elements.
Specially designed symbols, each with its unique design related to Halloween.
The thrill of racing against the time-limit.
What are the best online games?