Scary Face Match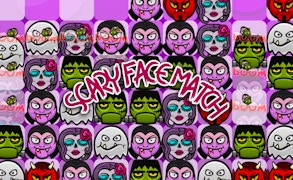 Scary Face Match
Description
In Scary Face Match, you're challenged to line up frightful faces in a match-3 style game. You have six distinctive monstrous faces to arrange in rows or columns of three or more, swapping them around for the perfect alignment. The clock is ticking, adding an adrenaline-pumping thrill to this already exciting puzzle game.
How to play
The gameplay is simple but requires strategic thinking. Click and swap the faces around to line them up in rows or columns of three or more matching faces. Game progression depends on your ability to solve puzzles quickly and efficiently under time pressure.
Tips and Tricks
To excel at Scary Face Match, focus on making large combos as they yield more points. Use your time wisely, prioritize difficult matches and don't be afraid to scramble the board if you're stuck.
Features
Six unique scary face designs create a varied challenge.
A ticking clock increases the sense of urgency and excitement.
The game presents a fun blend of strategy with time management skills.
An engaging puzzle match-3 gameplay.
Aimed at both casual gamers seeking fun and hardcore gamers looking for a challenge.
What are the best online games?