Save Rocket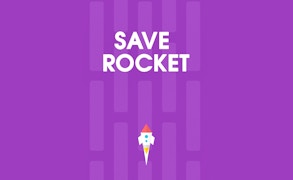 Save Rocket
Description
Save Rocket is an intense and captivating arcade game that tests your reflexes and precision. The game continually ramps up the pressure as your rocket hurtles through the sky, picking up speed as it goes. Your mission is to avoid crashing into platforms while chasing high scores. Can you master the flight controls and keep your rocket in the air?
How to play
The game's controls are straightforward but mastering them is a challenge. Simply tap on your screen or click with your mouse to make the rocket ascend; release to let it descend. The key is to carefully tap at the right time to avoid hitting any platforms. Over time, the rocket speeds up, which makes precision even more critical.
Tips and Tricks
To excel at Save Rocket, timing and anticipation are vital. Take note of platform patterns as this will help you predict their positions. Don't let the increasing speed overwhelm you - keep a steady hand and stay focused on your path.
Features
A simple yet challenging tap-to-climb mechanic that tests players' reaction and coordination skills.
Tension builds as the game's speed gradually increases over time.
A competitive leaderboard system encourages players to beat their friends' high scores.
Crisp graphics and smooth animations provide a pleasing gaming experience.
What are the best online games?