Save Pilot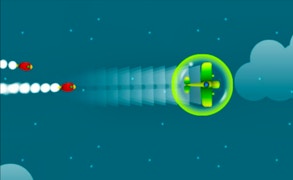 Save Pilot
If you've ever yearned to take to the skies in an adrenaline-fueled blaze of glory, Save Pilot is the game for you. This riveting addition to the universe of flying games and airplane games provides both experienced sim pilots and newcomers something remarkable to sink their teeth into.
The name of the game is survival. You control a nimble plane, deftly navigating through a hailstorm of bullets and rocket fire. It's an experience that sharply hones your skills, challenging you every step of the way. You are tasked with outmaneuvering these deadly salvos, as your survival hangs precariously in the balance.
This is not just a game of evasion though; you are provided an opportunity to fight back too! Every so often, you'll be granted the ability to shoot back at your opponents, adding a sweetly satisfying layer of offense to this intense defensive dance.
One quite impressive aspect about Save Pilot is its simple yet immersive control scheme. Whether you're swiping your finger across your screen or deftly guiding your plane with a computer mouse, maneuvers feel quick and responsive on virtually any device.
In the skyward battlefield of Save Pilot, power-ups sporadically punctuate your survival journey; snagging shields provide vital protection from enemy fire while speed boosts provide a much-needed escape valve when situations get too heated.
In conclusion, Save Pilot is not just another face in the crowd when it comes to flying games. It pushes you to test your limits and constantly expand your skills in an environment where dexterity and quick-thinking are your keys to success. So strap yourselves in gamers and prepare for liftoff; this high-octane adventure will keep you coming back for more!
What are the best online games?