Sandwich Shuffle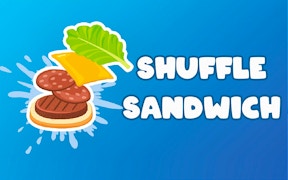 Sandwich Shuffle
Step into the fast-paced, ingredient-slinging world of Sandwich Shuffle, a game that masterfully blends the frantic fun of running games and the culinary creativity of cooking games. Part of the increasingly popular genre of Hyper Casual Games, Sandwich Shuffle is a must-play for any self-proclaimed arcade enthusiast. This game will get your adrenaline pumping and your mouth watering in equal measure.
In this riveting food frenzy, players are tasked with turning a mountain of fresh ingredients into towering, delectable sandwiches. But it's not just about slapping some bread and ham together - in true running game fashion, you'll need to nimbly navigate obstacles as they appear on the sandwich assembly line. Swipe right and left in this high-speed culinary race to ensure your masterpiece makes it to the customer in one piece.
The beauty of Sandwich Shuffle lies in its simplicity; its ease-of-play invites gamers of all ages and skill levels to join the sandwich-making madness. Yet, don't let its straightforward charm fool you - to achieve true sandwich success, quick thinking and strategic ingredient placement are key. After all, nobody likes a sandwich with too much mustard or not enough lettuce!
Sandwich Shuffle continues to evolve in response to player feedback, with frequent updates ensuring that gameplay stays fresh and engaging. The hyper-casual gaming scene is all about instant fun and mesmerizing mechanics. And Sandwich Shuffle has heaps of both.
If you're looking for an exciting new addition to your collection of running games or cooking games or if you're simply craving some hyper-casual thrills, then look no further than Sandwich Shuffle. Strap on your apron, fire up your virtual grill, and start creating culinary masterpieces today!
What are the best online games?