Run Destiny Choice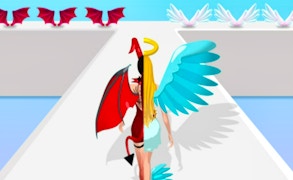 Run Destiny Choice
Get ready, gamers - a new champ reigns supreme in the realm of arcade running games: Run Destiny Choice. Applying a unique and phenomenal spin to the conventional formula of running games, this game entrenches you in a dynamic world teeming with animated characters, dashing landscapes, and imposing monsters - making it a must-play in the category of monster games.
The fascinating aspect about this game that stands apart from its contemporaries is its emphasis on player choice. Every decision you make shapes the narrative, directly influencing your character's fate. Will you be an ethereal guardian or a nefarious fiend? Only your decisions can guide your destiny.
Run Destiny Choice brilliantly intertwines elements of classic arcade games with elements of skill-based decision-making mechanics usually found in role-playing games. This amalgamation of genres creates a unique balance that pushes the limits of traditional skill games. This is not just about dodging obstacles while endlessly sprinting; it's about making critical choices under pressure.
Intricately designed levels are populated by fearsome monsters that will send chills down your spine. Facing off against these terrifying creatures means relying on quick reflexes as much as astute strategy to survive. Their unpredictable behaviours and complex attack patterns keep players on their toes at all times.
Run Destiny Choice doesn't just offer an engaging gameplay experience that tests your abilities; it delivers an interactive story wherein every choice carves its own narrative path. In conclusion, Run Destiny Choice is a thrilling, immersive, and fresh addition to the roster of arcade running games that commands your full attention with its detailed worlds, challenging monsters and skill-demanding gameplay. It's not just an arcade game; it's a journey where your choices matter as much as your skills - ultimately deciding whether you're angel or demon.
What are the best online games?