Rum & Gun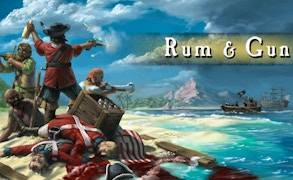 Rum & Gun
Prepare to hoist the Jolly Roger, arm your cannons and embark on an exhilarating journey on the high seas with Rum & Gun, an enticing blend of pirate games and monster games. In an adventure that sets your heart racing faster than a galleon in full sail, you find yourself as a formidable pirate captain facing off against not just rival buccaneers, but also monstrous beasts and eldritch horrors on the Indian Ocean.
From the very outset, Rum & Gun strikes you with its vivid imagery and immersive gameplay. The danger is palpable, the ocean teeming with menacing pirates and monstrous sea creatures. You are truly tossed into a world of cutthroat treachery and unspeakable terror; where survival depends on both the strength of your sword arm and cunning tactical maneuvers.
Unlike conventional pirate games, this isn't just about plundering; it's about fighting ruthless adversaries who arrive in waves more relentless than the sea itself. One minute you're engaging in ship-to-ship combat against bloodthirsty pirates, the next you're forced to defend your crew from terrifying sea serpents or otherworldly horrors. This dynamic gameplay offers an irresistible draw to fans of both pirate dramatics and thrilling monster games.
The unyielding challenge fuels the addiction in Rum & Gun, pushing you to test your limits as a pirate captain. Every victory tastes as sweet as rum stolen from a rival's cargo hold, driving you forward through perilous encounters and daring escapades.
In conclusion, if you have been looking for a game that combines swashbuckling pirate action with terror-inducing monster encounters, then Rum & Gun is one adventure game worth charting a course for. Hoist your colors high and set sail into an ocean fraught with danger and excitement - become legendary on the Indian Sea.
What are the best online games?