Royal Offense 2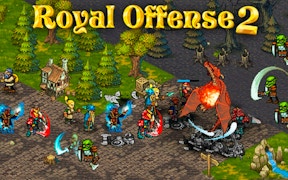 Royal Offense 2
Welcome, brave warriors to a thrilling world of war games and knight games, filled with epic battles and cunning strategies. Embark on a quest to conquer and expand the kingdom's reign in Royal Offense 2, an enticing real-time strategy game that combines elements from various gaming genres including battle games, pixel games, and management games.
Famed for its captivating gameplay, Royal Offense 2 deftly integrates the charm of nostalgic pixel games with the tactical depth of classic war titles. Players are invited to marshal their forces, deploying valiant knights and fearsome monsters, in an epic clash against relentless enemies. This is not just another one among countless war or knight games. It's an immersive expedition where your strategic acumen is your greatest weapon.
The massively improved upgrade system deserves special mention. It enables you to train your heroes with a newfound intensity and fine-tune spells that can shift the tide of battle - making this a must-try for fans of engaging battle games. Take pleasure in managing resources and troops, as you would in influential management games.
The allure of Royal Offense 2 is further bolstered by balancing the thrill of combat with strategic resource management, an aspect often missed by typical monster games. This creates an intriguing blend of genres that keeps players coming back for more.
In conclusion, Royal Offense 2 serves as an exemplary model for future war, knight, battle, pixel, and management games alike — presenting us with a world where each decision could mean the difference between victory and defeat. It's not just about fighting monsters; it's about conquering realms through real-time strategic prowess.
What are the best online games?