Royal Offense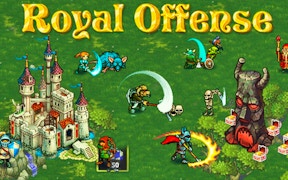 Royal Offense
In the realm of strategy games, there emerges a standout title that dares to merge the thrill of epic battle games with the immersive experience of Management Games. This exceptional game is none other than Royal Offense.
Set against the backdrop of a kingdom plunged into darkness, Royal Offense challenges players to take up arms as brave knights in one of the most captivating knight games you will find. The kingdom is under siege by a horde of gruesome monsters, catapulting this game into the brackets of memorable monster games.
The campaign mode spans 15 intense missions filled with brutal battles and strategic planning. With 10 valiant heroes at your disposal, each upgradeable via 21 distinct paths, Royal Offense offers round after round of engaging gameplay. Construct your army and strategize your attacks to vanquish the 12 types of enemies threatening your kingdom.
The pixelated graphics add an air of nostalgia, propelling Royal Offense into the circles of classic pixel games. Yet, beneath its vintage veneer lies a modern war game that pushes your strategic abilities to their limits.
Royal Offense isn't just about winning wars; it's about managing resources, making tactical decisions, and demonstrating heroism in the face of adversity – all while chasing after 21 achievements across three difficulty modes.
This game offers hours upon hours of action-packed gameplay, retaining an edge-of-your-seat anticipation that most war games aspire to but rarely achieve. It's undoubtedly one for those who love strategy and warfare intertwined in a classic gaming experience.
What are the best online games?