Royal Knight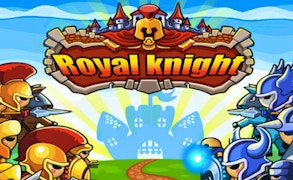 Royal Knight
Get ready for an adrenaline-pumping, strategic action-packed journey through the medieval era, with the brilliantly designed game Royal Knight. If you are a fan of sword games, battle games, or management games, this is an experience you won't want to miss!
Royal Knight is a distinctive blend of strategy and action, where you are tasked to build your fortified tower, equip it with lethal crossbows and cannons, and fend off the relentless onslaught of enemy troops. Your mind will constantly be engaged, making tactical decisions as the real-time multiplayer battles unfold.
Every battle in Royal Knight is against other players from around the globe making it all the more challenging and engrossing. It's not just about defending your tower with canny strategy but also launching audacious attacks on other player's towers in alliance with your allies. This adds a dynamic layer of offensive gameplay to the core defensive strategies.
As you triumph over your enemies, you climb up in rating and attain new ranks – a testament to your strategic prowess in the battlefield. The inclusion of numerous achievements to complete and cool rewards to reap makes for a highly engaging gameplay loop that keeps you hooked.
Overall, Royal Knight offers an exhilarating blend of strategy and action that fans of sword games and battle games will surely appreciate. The management aspect of defending your fortress while attacking others provides a captivating layer of complexity that keeps every session interesting. So if you're looking for a game that pulls no punches when it comes to delivering an intense combination of strategy, action, swords and battles - then prepare your defenses, rally your allies and charge into the battlefield with Royal Knight!
What are the best online games?