Rosalie Winter Day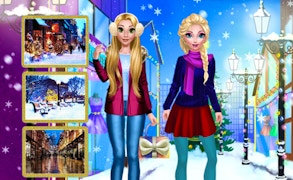 Rosalie Winter Day
Embrace the festive spirit in Rosalie Winter Day, a captivating addition to the rich seasonal portfolio of kids' Christmas games. A game that perfectly combines dress up games, hairdresser games, and fashion games into one wholesome package that will surely tickle the fancy of aspiring little stylists.
The premise of the game centers around our charming protagonist, Rosalie, who is set for an outing on a chilly winter's day. The goal is to ensure she is not only warm but fashionably put-together using a splendid array of outfits and accessories available.
As a player, your flair for fashion is put to test as you get to choose from the most stylish blouses and trousers. Rosalie also needs a cozy jacket, a fluffy hat, and winter boots; all essentials in creating an exciting mix-and-match ensemble that exhibits your creative prowess in fashion games.
In this incredible game, customization takes center stage; you can pick a new color for each item creating an extensive palette for your artistic experiments. Even more exciting is the opportunity to complete Rosalie's look with a fancy purse, bringing in another fabulous layer of creativity inherent in top-tier dress up games.
The fun doesn't stop there! You also get to choose where Rosalie would go on her day out with friends. So aside from being one of the go-to games for girls focused on style, Rosalie Winter Day curates an adventurous vibe common among interactive Christmas games.
In conclusion, whether you are an ardent admirer of hairdresser games or love delving into intricacies of dress up games, Rosalie Winter Day wraps these elements into a vibrant game experience. It challenges your creative skills whilst ensuring endless fun - emulating what the best Christmas and Fashion Games should offer.
What are the best online games?