Rope Draw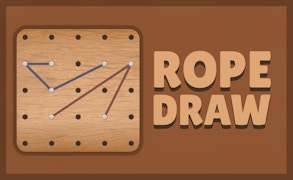 Rope Draw
Description
Immerse yourself in the fascinating world of Rope Draw, a unique puzzle game that challenges your spatial reasoning and creativity. The game centres around manipulating ropes to replicate specific designs. Not only does it test and train your brain, but it also provides a satisfying visual experience. With a total of 120 levels to conquer, each bringing new arrangements and challenges, your ability to strategize and plan will be put to the test.
How To Play
In Rope Draw, your goal is to mimic the rope arrangement displayed at the top of the screen by pushing ropes into their correct positions. If you're ever unsure, you can press the 'Hint' button for some guidance on the initial steps. Progress through the game by successfully completing levels, unlocking 'Fun' mode after mastering level 40.
Tips and Tricks
Patience is key when playing Rope Draw. Take time to study the reference pattern before making moves. The 'Hint' feature is there for assistance, so do not hesitate to use it when in need. Remember, after level 40, you can experiment with new rope patterns in 'Fun' mode!
Features
Engaging puzzle game that sharpens spatial reasoning skills.
120 diverse levels with increasing complexity to keep you challenged.
A handy 'Hint' button for when you need a little nudge in the right direction.
'Fun' mode unlocked after reaching level 40 for additional creative play.
What are the best online games?