Rival Colors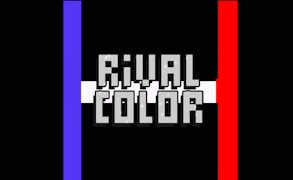 Rival Colors
Description
Rival Colors is an engaging arcade game, designed to enrich your reflexes while ensuring long-term fun. It is a delightful blend of color matching and quick reaction gameplay. The visual style pleases the eye, and the fun lies in trying to match the colors as quickly and accurately as possible. Enhance your reflexive abilities in an environment wrapped in technicolor.
How to play
The rules are simple but can test your reflexes to the limit. Just tap or click on the screen to match the color of the falling dots with that of your base. The speed increases as you progress, requiring quick decisions for successful color matches. The game continues until you tap a wrong color match, creating an addictive tempest of challenge and fun.
Tips and Tricks
Progress in Rival Colors relies heavily on your reflexes and speed. Keep calm, concentrate on the colors, and don't let the pace overwhelm you. Try to anticipate where the next dot will fall, allowing you to position your base correctly ahead of time.
Features
Simple yet addictive gameplay that tests your reflexes
Vibrant color scheme that keeps you hooked.
Suitable for all age groups with its easy-to-understand gameplay mechanics.
A dynamic speed increase mechanism that adds more thrill as you progress.
What are the best online games?