Ringo Starfish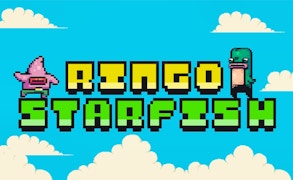 Ringo Starfish
Dive into the pixelated oceanic world of Ringo Starfish, an addictive arcade adventure game that merges the retro charm of 80s gaming with contemporary gameplay dynamics. With its charming blend of animal games, skill games, pixel games, retro games, and monster games, Ringo Starfish promises a thrilling gaming journey that is irresistible to any arcade game enthusiast.
Charting the underwater exploration journey of Ringo Starfish, the game takes players on an exhilarating expedition brimming with enigmatic mysteries and hidden treasures. The game's central narrative revolves around Ringo's quest to unearth hidden treasure on a secret island. True to its tag as a skill game and one of the endearing monster games, players need to leverage Ringo's unique abilities to overcome diverse enemies and treacherous traps spread across various levels.
One of the standout features of this game is its stylish pixel art graphics that hark back to classic retro games. This aesthetic evokes warm nostalgia yet never feels dated or out of place in today's gaming landscape. Adding further depth are the brilliant sound effects that make each swimming action, firepower launch or encounter with a scary sea creature feel real.
As part of Ringo's arsenal are his impressive swimming abilities, powerful firepower and invincibility power. These attributes put to test your gaming skills, making you reminisce those addicting hours spent playing skill games. The checkpoint tool eases your journey across levels frequently sprinkled with challenges and enemies.
In conclusion, Ringo Starfish encapsulates everything we cherish about animal games and retro games – it's nostalgic yet fresh, simple yet challenging, vibrant yet eerie. It's a must-play for all arcade game devotees and those seeking an exciting plunge into one-of-a-kind undersea adventure.
What are the best online games?