Ricosan 2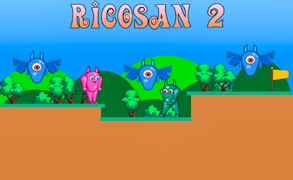 Ricosan 2
Description
In Ricosan 2, you embark on a delightful adventure through a vibrant, colorful world filled with challenging obstacles. As a lovable robot, your mission is to gather all of the pineapples scattered throughout each level. However, the path won't be easy, with airborne enemies and a plethora of deadly traps waiting to thwart your journey. This charming 2D platformer escalates in difficulty as you progress, promising an engaging gameplay experience.
How to play
The game's controls are intuitive and straightforward. You can move the robot using either the "WASD" keys or the "Arrow" keys. To tackle higher platforms, employ the double jump by pressing the "W" or "Up" arrow key twice in quick succession. Navigate through each level while evading threats and gathering pineapples to reach the Exit door and advance to the next level.
Tips and Tricks
To succeed in Ricosan 2, strategize your movements and jumps carefully. Be mindful of projectiles from flying enemies and time your jumps precisely to avoid ground traps like spikes or saws. Remember that you have double jump at your disposal - it can be surprisingly handy when evading tricky obstacles.
Features
Entertaining Gameplay: A captivating mix of collecting elements and evasion strategies.
User-Friendly Controls: Easy-to-use keyboard commands catered for all players.
Progressive Difficulty: Challenge increases as you advance through the game.
Cute Graphics: Enjoyable 2D graphics that add a joyous ambiance to your adventure.
What are the best online games?