Rexo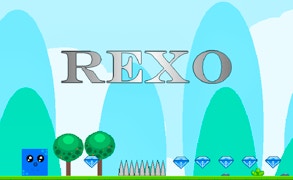 Rexo
Description
Delve into the adventurous world of Rexo, a dynamic 2D platformer that envelopes you in a blocky universe brimming with gems. In this game, your cubic avatar navigates through challenging realms, each more intricate than the last. Evade menacing spikes and confront enemies as you strive to uncover every gem in each of the 8 levels. The game's essence lies in your ability to turn the red flags green by harnessing all gems, opening gates to subsequent levels.
How to Play
Navigate your blocky hero using Arrow keys or tap on the movement touch buttons on mobile devices. You can execute an essential Double Jump by pressing the Up Arrow key twice, crucial for reaching higher platforms and clearing obstacles. Remember, your mission is not accomplished until you've turned all flags from red to green by acquiring all gems.
Tips and Tricks
To excel at Rexo, master the technique of Double Jumping, as it is pivotal for reaching elusive gems and avoiding lethal spikes. Additionally, anticipate enemy movements and plan your route beforehand to minimize contact with enemies and maximize efficiency.
Features
Engaging 2D platformer that tests your reflexes and strategic skills.
A total of 8 intricately designed levels to beat.
A unique visual hook with blocky characters and colorful gems.
The exhilarating challenge of skillful navigation through obstacles and enemies.
An immersive experience for both PC and mobile players thanks to flexible control options.
What are the best online games?