Retoena 2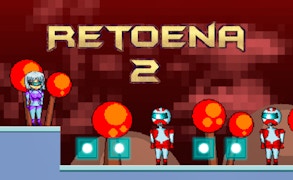 Retoena 2
Description
Dive into the vibrant sci-fi world of Retoena 2, a captivating 2D platformer game. Embody a humanoid female protagonist on an epic quest to collect blue energy cubes, while expertly evading enemy bots, lethal projectiles and daunting traps. As you progress through the game's thrilling 8-level journey, brace yourself for an escalating challenge.
How to Play
In Retoena 2, control your character using either 'WASD' or 'Arrow' keys. To perform a double jump, which can often mean the difference between life or death, hit 'W' or 'Up' arrow key twice consecutively. Your main objective is to navigate each level collecting blue energy cubes and avoiding your adversaries to return safely to your base.
Tips and Tricks
Mastering the double-jump in Retoena 2 is essential; it adds an extra dimension to your evasion tactics against enemy bots and deadly traps. Moreover, carefully note patterns of enemy movement and projectile paths for successful navigation and survival.
Features
Engaging Sci-fi themed adventure throughout 8 challenging levels.
Variety of adversaries: red and green enemy bots with different abilities enhance the gaming experience.
Diverse Obstacles: from bullets and saws to spikes challenge player's dodging skills.
Vibrant graphics adding an immersive touch to gameplay.
What are the best online games?