Real Squid 3D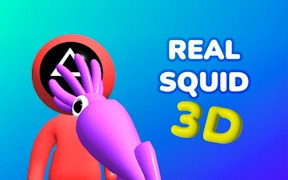 Real Squid 3D
Immerse yourself in the thrilling underwater world of Real Squid 3D, an outstanding game that successfully amalgamates genres into a unique experience. Combining elements of running games, stickman games, number games, and brain games, it's a refreshing fusion of quick-paced action and mind-boggling puzzles.
Real Squid 3D defies conventional gaming norms by inviting players into an excitingly exotic underwater realm. Take on the role of a flying squid leading an army, navigating through tumultuous waters while conquering adversaries. Not only does your survival rest on your agile maneuvers; it also relies on your ability to quickly calculate the most beneficial route.
Unlike most other arcade games, the appeal of Real Squid 3D extends beyond its thrilling gameplay. It is also visually stunning with its 3D graphics, effortlessly drawing players into its captivating aquatic world. The squids' fluid movements simulate real-life motion magnificently, making this game truly stand out amongst other stickman games.
No matter how many running or stickman games you've played before, Real Squid 3D takes you on a unique adventure. This title adeptly merges brain-boggling strategies reminiscent of number and brain games with exhilarating arcade-style action to provide an unmatched gaming experience.
In short, Real Squid 3D astutely balances mental gymnastics with fast-paced action sequences to spawn an engaging atmosphere that'll have you hooked for hours on end. With its remarkable blend of genres - from running to stickman – from numbers to brain challenges, Real Squid 3D encapsulates what arcade gaming should be – exhilarating yet thought-provoking. Enter the water and unleash your inner squid today!
What are the best online games?