Real Gangster City Crime Vegas 3D 2018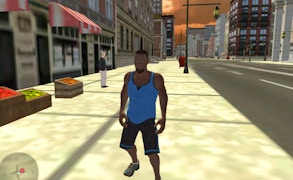 Real Gangster City Crime Vegas 3D 2018
Step into the treacherous underbelly of Las Vegas with Real Gangster City Crime Vegas 3D 2018. One of the most thrilling driving games and car games currently on the market, it plunges players into an immersive world of crime, intense gun battles, riveting chase sequences and ultimate gangster showdowns.
The gameplay mechanics are ingenious, incorporating elements from running games and gun games to create an authentic gangster experience. The in-game controls are user-friendly: WASD for movement, LKM for attack, a quick press of 'Shift' sends your character into sprint mode, 'Space' for an agile jump and simply press 'F' to commandeer vehicles.
Real Gangster City Crime Vegas 3D 2018 is not just about committing crimes; it brilliantly encapsulates the essence of battle games. You get to face off against rival gang members in gripping street wars that test your strategic thinking skills and reflexes. The city of Vegas is accurately portrayed as a playground for lawlessness, where only the fittest survive.
From thrilling high-speed chases to heart-stopping gunfights and dodgy deals - this game delivers on all fronts. The use of guns, cars, bikes, planes, trucks and buses - each vehicle with its distinct performance boosts adds a tantalizing level of complexity to the game.
In conclusion Real Gangster City Crime Vegas 3D truly stands out in the genre of gangster games by delivering an immersive crime simulation experience that is hard to match. Developer's expertise in creating grand scale action sequences complements beautifully with their attention to detail to curate one of the best gangster game experiences available today.
What are the best online games?