Real Estate Tycoon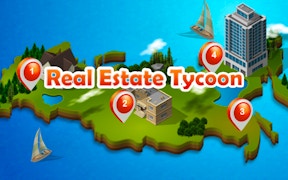 Real Estate Tycoon
Stepping into the world of Real Estate Tycoon, you dive headfirst into a truly immersive, strategic powerhouse teeming with multiple game modes. This management game cleverly blends elements of city building games, tycoon games, and money games, creating an exhilarating experience that will keep gamers hooked.
This isn't just any strategy gameplay; it's a vibrant metropolis where every decision counts and every structure sings a tale of success or failure. A city building game that engulfs you in its radiant charm as you maneuver through its intricate networks, figuring out the best tactics to maximize your profit and build your real estate empire.
The game's central focus is the essence of tycoon games, where power is placed directly in your hands as you manage resources, build structures, and strategize to expand your cityscape. It's not just about who has the tallest skyscraper; it's about who has the most efficient one. Who utilizes resources better? Whose city thrives under their management? These questions are what make Real Estate Tycoon a relentless adrenaline rush.
The magic lies in the thrill of money games; in every dollar earned from wise investments and strategic planning. It's a thrilling roller coaster ride that dips and soars with the market trends and your decisions. And with multiple game modes available, each playthrough brings fresh challenges and rewards.
In conclusion, Real Estate Tycoon is much more than what meets the eye. It's an intricate dance between strategy gameplay and management skills that keeps players on their toes. If you're a fan of tycoon or city building games looking for a new challenge or simply someone who enjoys sharp strategic gameplay and intense money management, then Real Estate Tycoon might just be your next obsession.
What are the best online games?