Random Cards: Tower Defense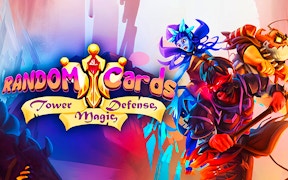 Random Cards: Tower Defense
Unleashing the epitome of action, card, and strategy gaming, Random Cards: Tower Defense
marks its grand entry into the realm of
battle-games
. It is not a game for the faint-hearted. It's for those who crave challenge, those who dare to strategize their moves, evaluate their steps and are eager to become champions of this digital battlefield.
In this game, players are required to artfully assemble their team comprising the strongest warriors or brace themselves for intense one-on-one showdowns with enemy forces. The essence of victory lies in perfect calculation and meticulous planning. It asks you to craft masterful tower defense tactics, decipher key methods to enhance your cards' capabilities while staying prepared for making tough decisions on the spot.
The uniqueness steeped within each card, manifested through its individual strength and power, further enriches the game. A testament to its intricacy is that the outcome won't merely be a byproduct of chance or luck. It will be a reflection of your strategies, your decisions.
Random Cards: Tower Defense successfully encompasses an engaging mixture of tactical warfare and spontaneous decision-making. In a nutshell, it's a game designed for gamers seeking not just amusement but also a platform to test their strategic skills and decision-making prowess in high-pressure situations.
If you're ready for this thrilling experience sprinkled with moments of potential strategic genius, Random Cards: Tower Defense is waiting for you!
What are the best online games?
Tags