Rajuchan 2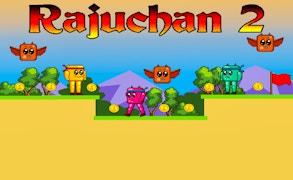 Rajuchan 2
Description
Rajuchan 2 is an engaging 2D platformer game that takes you on an exhilarating journey through eight challenging levels. Your mission is to gather all the golden coins while skillfully avoiding a variety of foes, including green and purple adversaries, airborne monsters, and lethal spikes. Your ultimate goal is to reach the red flag marking the end of each level. The fun intensifies as the difficulty escalates with each subsequent level.
How to play
To control your character's movements in Rajuchan 2, use either the "WASD" or "Arrow" keys. To perform a double jump, simply press the "W" or "Up" arrow key twice in succession. Remember, your primary objective is to reach the red flag unscathed while collecting all gold coins along your path.
Tips and Tricks
Throughout the game, prioritize avoiding enemies over gathering gold coins as survival ensures progress. Make ample use of your double jump ability to navigate difficult terrain and evade deadly obstacles. Learn each enemy's movement patterns and prepare your strategy accordingly for a safe passage.
Features
2D Platformer: Enjoy classic side-scrolling gameplay merged with modern elements.
Multifarious Enemies: Encounter diverse kinds of enemies that increase game complexity.
Double Jump Mechanic: Utilize your double jump skill for advanced maneuverability and evasion tactics.
Diverse Levels: Experience eight different levels with escalating difficulty that keeps you on edge.
What are the best online games?