Rain Stone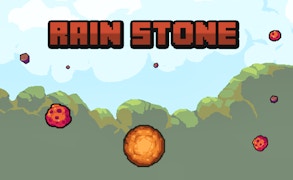 Rain Stone
Description
Step into the shoes of a quick-footed dinosaur in Rain Stone, an engaging HTML5 arcade offering. The game thrusts players into an escalating danger as they have to avoid falling stones. The survival challenge gets more intense with each passing moment, as the meteor shower gradually turns into a heavy downpour. You must stay vigilant and move effectively to rack up your scores.
How to play
The controls of Rain Stone are simple yet demand precision. Use the arrow keys on your keyboard to navigate and jump your dinosaur avatar around the screen. Timing is essential - you must avoid stones as they plummet down, with their frequency increasing as the game progresses. Your goal is not just survival but also accumulating the highest score possible.
Tips and Tricks
Maintain constant movement and try to predict the trajectory of falling stones. Learning their falling patterns can increase your survival chances greatly. Be wary of staying at corners for an extended period as it decreases your maneuverability space. Also remember, in Rain Stone, quick response times are key.
Features
A thrilling survival game that tests your agility and reaction time.
Simple yet demanding controls that keep you on your toes.
An escalating difficulty curve that constantly challenges players.
A unique dinosaur theme providing immersive gameplay experience.
What are the best online games?