Raid Heroes: Sword and Magic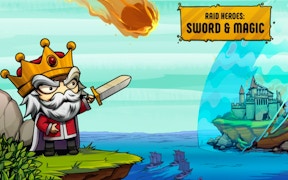 Raid Heroes: Sword and Magic
Immerse yourself in Raid Heroes: Sword and Magic, an electrifying blend of RPG and Action genres. Residing in the pulsating heart of sword games, archery games, battle games, knight games, monster games and war games, this thrilling adventure will cast you into the realm of mystical heroes and menacing foes.
Assemble the mightiest band of heroes within the kingdom and brace yourself for a confrontation with the Dark Lord's malevolent army. With a multitude of adversaries including goblins, orcs, warlocks and more, the battlefield is fraught with danger. But fear not, for choosing a hero that aligns with your personal play style will bolster your odds. From stalwart knights to stealthy assassins, your chosen hero is your beacon in this dark fantasy world.
In Raid Heroes: Sword and Magic, artifacts are not mere relics; they are formidable weapons that augment battle prowess. Equip your squad with invincible swords or formidable bows and arrows to leave destruction in your wake. Choose your target wisely as you siege another player's castle or defend your own township from ruthless marauders.
Experience riveting player vs player (PvP) action in the arena where only one champion emerges victorious. Each story episode unravels a new layer of intrigue amidst a grand war narrative. Rewards harvested from vanquishing foes propel forwards your heroes' development as they ascend from being mere mortals to becoming celebrated legends of their own right.
Raid Heroes: Sword and Magic is a triumph amongst knight games, demonstrating remarkable evolution in its genre while maintaining an easy to grasp gameplay flow. The journey from being an idle hero to becoming a true legend of the arena will undoubtedly captivate dedicated RPG Action fans everywhere.
What are the best online games?